Every business needs to keep accurate records of their income and expenditures. It's what helps you plan for the future, create budgets, keep costs down and maintain a good-looking profit margin. One crucial record is the profit and loss (P&L) statement.
You'll have to decide upon a time period you want to cover initially, and then using a spreadsheet, create columns for Sales Revenue, Cost of Sales, Overheads and Sales and Marketing Costs.
Need more information on what to include? Here's how to write a profit and loss statement for your business.
1. First, What Do I Need to Create a Profit and Loss Statement?
Make your P&L statement e from the information gained from your budgets, income, outgoings and for more accuracy, estimated calculations on depreciation.
Here's a list of the information you'll need to begin:
A list of transactions over the required period.

These transactions should include any from a business checking account, from business credit cards and any petty cash transactions of which you have receipts.

A list of all income sources.

These can be cheques, credit card payments, cash payments or bank transfers. These are found on a bank statement.

Don't forget to include any reductions to your sales

, such as item/service discounts or returns.
To make this easier, consider using a business bookkeeping app that can keep track of your customer invoices, bookkeeping and financial reporting. Keeping your finances in one place is a much easier way of doing business, rather than rooting through draws for old receipts and statements. Some software even builds your profit and loss statements for you.
Creating a P&L statement doesn't have to be an overwhelmingly complex task. Alongside the tips above, we also have a template you can employ for your accounting needs.
2. Now, Here's How to Write a Profit and Loss Statement
Preparing a P&L is simple but effective. It needs to be an accurate representation of your company's income and expenditures so that you can see an overall sum of net profit or loss.
To make this process easier, use online resources such as templates you can download. These are pre-made P&Ls - all they lack is your information. You can utilise them to make creating a P&L incredibly easy and quick.
Here's an example of a blank profit and loss template you can use for inspiration.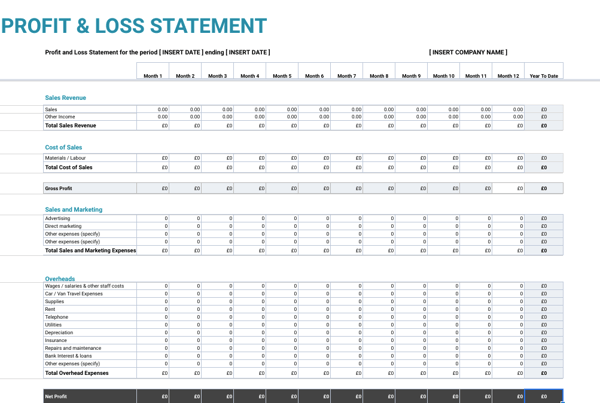 Simply follow these steps:
Insert the period of time you're aiming to cover. This can be for one month or a period of a whole year.

In a new column, input all of your total sales. This figure goes at the top of your P&L statement in an overall Sales Revenue column.

Enter the Cost of Goods sold in a new column. This includes what you have paid for the goods sold. *NB If your company provides a service, you do not sell inventory, so this field can be left blank.

Input your Sales and Marketing costs and Overheads in a new column - this includes everything from wages and utilities to travel expenses and rent etc.

Once you have added all your income and expenses, you can caclulate your net profit.
Your P&L statement is now complete!
3. Why You Should Prepare a Profit and Loss Statement
You need a P&L statement for a several reasons. First of all, it tells you whether your business is making any money, presented in an easily understandable graphic. This helps you monitor your business' operations and visualise whether any adjustments to your budgeting and expenditure is necessary. It also helps evaluate and validate your managing ability.
A P&L statement is useful because it gives you an easy visual detailing the flow of cash in and out of your business.
Furthermore, it helps when calculating the amount of taxes you'll have to pay on earned profits.
4. Profit and Loss Statements: The Facts
Here's some extra information on P&L statements for you to utilise and even teach others.
Each P&L statement you create will contain uniform categories of expenses and sales. Remember, the classifications you should include are net sales, cost of sales, gross profit, marketing expenses, overheads and net profit.
There are two types of profit and loss statements - periodic and pro forma:
Periodic P&L

- This statement will be made by an already established business and you should do it every quarter. It helps you make decisions and prepare your taxes.

Pro Forma P&L

- A new business makes this statement at the startup stage. It's like a weather forecast, meaning it projects into the future using researched data.
If you need to create pro forma P&L statements, you should do this for every month of the first year in business. It helps to reassure investors or lenders about your finances and projected earnings as they will want to see your rising income and react accordingly.
Creating a profit and loss statement is much easier using an online template, and there are many out there from which to choose.
Begin Creating Your Profit and Loss Statement With Our Useful Template
Summarising the revenue, costs and expenses of your business is a crucial step in any business process, but it's not the only one.
In our pack of helpful templates, you'll find resources that will help you track your profit and loss, cash flow forecast, expenses and more.
To get your templates, click the link below.