EasyBooks will make managing your small business' finances a whole lot easier. With the Making Tax Digital deadline fast approaching in April 2019, it's time you found the right software that can help.
We'll run through all of EasyBooks' amazing features and see how they compare to Wave.
Invoicing
We've designed our app to be simple, straightforward and easy to use. It's able to manage everything your small business needs. There's no confusing jargon or time-consuming tasks, letting you get on with the really important stuff.
EasyBooks
We all know that invoices are essential but they can be time-consuming to create and send, especially when you're busy. The EasyBooks app makes the whole process fast and hassle-free, thanks to features like these:
You can quickly create and send estimates to potential customers so that you're more likely to win them as a client.

Easily send invoices in PDF format straight to your customers.

Keep an eye on payments in real-time so you always know exactly who owes what.

Use previous invoices as templates for future ones to save time.

Quickly create quotes and then instantly convert them into new sales invoices.

Make your invoices look professional with customisable letterheads, logos, payments terms and more.

View statements that detail all of your business' sales, credits and payments.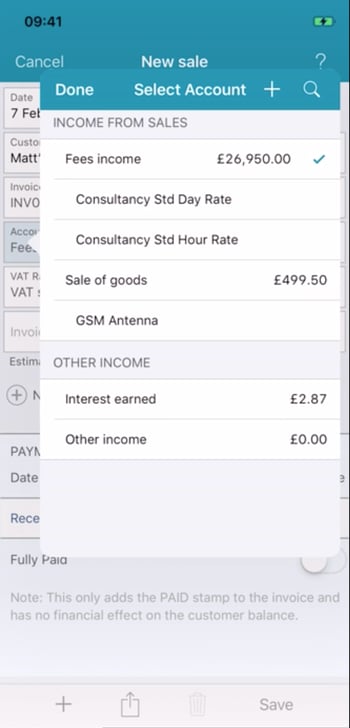 Wave
Like EasyBooks, Wave has created their app to be straightforward and simple to use. The invoices you can create on Wave are professional and customisable, allowing you to find the right look to suit your business.
Here are some of Wave's other invoicing features:
Invoice in any currency.

Quickly send estimates and then turn them into invoices.

Add your business' logo and colours to invoices.

Automatic and seamless accounting integration.

Duplicate invoices to save time when billing.
Bookkeeping
Bookkeeping doesn't have to be a headache. The EasyBooks app can make bookkeeping much easier for your small business, only providing the features you need so that your accounts are always how you want them.
EasyBooks
The more time you have to spend working on your business' finances, the less time there is to actually be working. Our app lets you get on with the important things thanks to its streamlined and simple approach.
Here are some of its bookkeeping features:
Add multiple businesses into the app and manage all of them from one system.

The app will flag mistakes and give you early warnings if there are errors.

It handles over 150 currencies, continually updating exchange rates and making it easy to deal with international customers.

Protect your data with regular backups and a four-digit passcode.

Set transactions to automatically repeat to save time.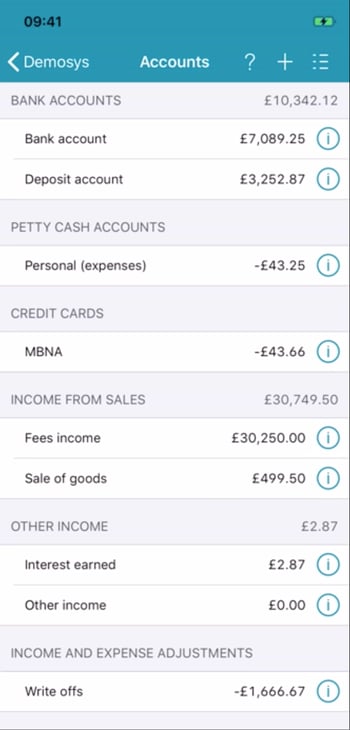 Wave
Wave's accounting and bookkeeping software is simple, reliable and secure. It can help you to get organised and track your business' health at any time. The software is great for accountants but it doesn't have an audit history, so it can be difficult to keep track of who's done what.
Here are some of the key features:
Fast and easy setup.

Instant updates for your invoice, payroll and payments data.

Bulk transaction updates which allow for faster bookkeeping.
Finance Reporting
To make sure your financial reporting is as easy as possible, you need an app that's bursting with useful features. That way, you'll always know how your business is performing and the money you have available at any moment.
EasyBooks
Whether it's overdue payments, checking stock inventory or filing tax returns, the EasyBooks app makes financial reporting fast and easy. There's a wide range of features that you'll have access to if you use the app that can make reporting an absolute breeze.
Generate stock reports.

Monitor sales and inventory.

Comply with Making Tax Digital and easily file your tax returns.

Reports can be emailed and printed in different formats.

Use customer reports to keep an eye on your best customers.

Run reports like Profit & Loss and Balance Sheet to track your overall finances.

Monitor customer activity, including sales numbers and overdue payments.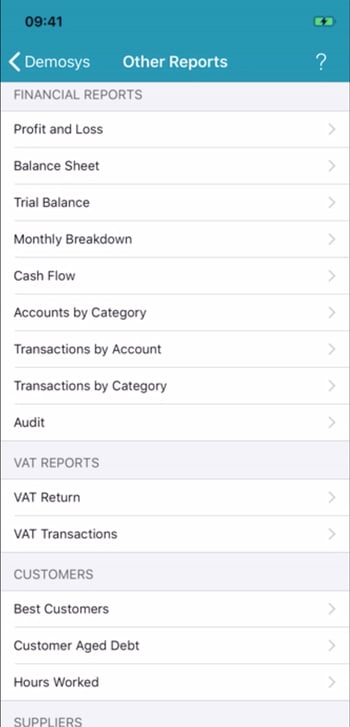 Wave
Wave's financial reporting features are a little less clear cut than EasyBooks. Like EasyBooks, it also makes sure you're ready for the Making Tax Digital switch in April 2019. The smart dashboard organises your income, expenses, payments and invoice to make tax returns nice and simple.
Customisable sales taxes.

Exportable accounting reports, including profit/loss, sales tax and more.

Customisable expense and income categories with account IDs.
Wave is a free app. Free apps are fine for games, but perhaps not the wisest choice for critical business support functions like keeping your books and tax records. Ask yourself, how can they afford to continue support for their software and answer any questions you might have?
EasyBooks does cost a little money, but it is the whole package, offering a wide range of features to make sure your business records are accurate and in safe hands.
What makes EasyBooks so unique is the flexibility in prices with our Bronze, Silver and Gold packages being much cheaper than the competition.
Plus, other alternatives are usually packed with hidden extras. With cost, honesty and flexibility important when it comes to bookkeeping software, the price for the EasyBooks app includes everything - there are no extras.
Best of all, we allow customers to keep books on multiple businesses with one subscription, something you can't get with alternative solutions. To make sure you're ready for MTD and to make the best business decisions possible, download EasyBooks today.
Are You Ready for Making Tax Digital?
Making Tax Digital has been mentioned in this blog and the deadline is fast approaching. Do you know exactly what Making Tax Digital is and the impact it can have on your business? If not, then you need to download our comprehensive summary sheet that's packed with all the information you need before the April 2019 deadline.
Download it now using the link below.