With the Making Tax Deadline (MTD) approaching, it's time to find a simple and easy to use app that'll make it easier than ever to do your books. Rather than searching endlessly for the right solution, here's what you need to know about the EasyBooks features and how it compares against both Zoho Books and Xero.
EasyBooks
When it comes to bookkeeping, there's nothing simpler than EasyBooks. While it's comprehensive, it's still effortless to use and do your numbers. No jargon, no complexity - just one powerful app whether you're on an iPhone or your tablet.
Invoicing
EasyBooks has been specially designed to get rid of any hassle surrounding customer invoicing.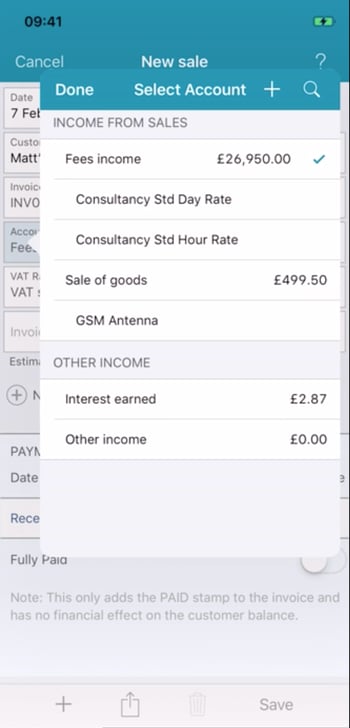 It's simple and straightforward to use thanks to the many features within. These include:
Sending invoices in PDF format directly to your customers.

Sending estimates from the same app so you win customers faster.

Easily replicating previous invoices to set up repeat customer invoices.

Tracking real-time payments.

Creating quotations quickly and instantly turn them into new sales invoices.

Customising invoice templates with letterheads, logos, payment terms and all of the fixed content labels.

Emailing your customers, print or pass invoices to a third-party app.

Statements show all sales, credits and payments.
Bookkeeping
Bookkeeping couldn't be any easier with EasyBooks. It only has the features you'll actually need to use and there's nothing confusing in there.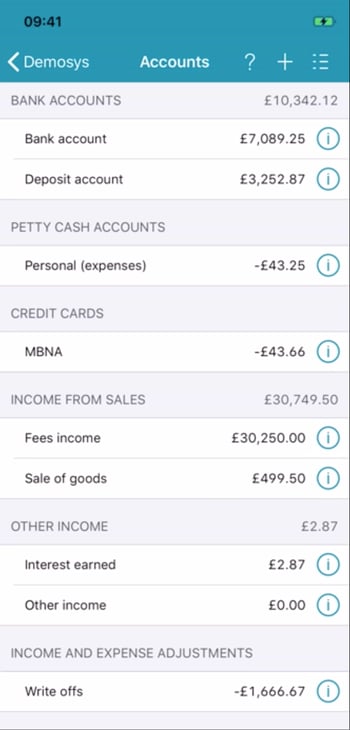 Features that'll make business bookkeeping a piece of cake include:
Backup, restoring and setting a four-digit passcode to protect all of your data.

Adding multiple businesses into EasyBooks and manage them from one system.

Designed to help you avoid mistakes and give early warnings.

Linking to different account types which are all synced from one app.

EasyBooks handles over 150 currencies with exchange rates updated hourly.

Setting transactions to repeat automatically which saves you a lot of time.
Finance Reporting
The EasyBooks bookkeeping app keeps digital bookkeeping as simple as possible with multiple finance reporting options to make your life much easier.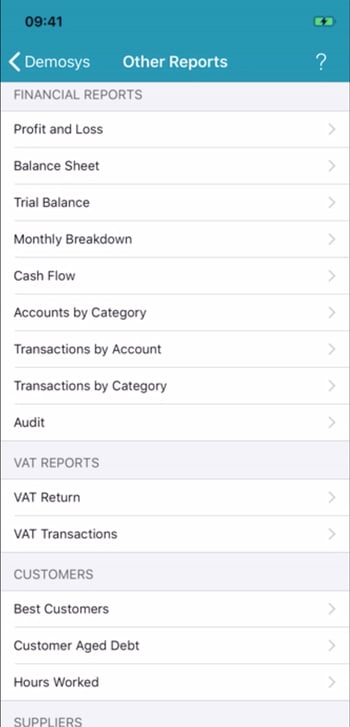 Here are some more finance reporting features available in EasyBooks:
Keeping tabs on your finances by running reports like Profit & Loss and Balance Sheet.

Creating simple reports to get rid of any confusion.

Monitoring sales and inventory from the EasyBooks app.

Using customer reports to monitor and track your best customers.

Complying with MTD and easily file your tax returns.

Creating monthly breakdowns and financial reports.

Having your reports emailed or printed in several formats.

Tracking customer activity, ranging from the number of sales right through to overdue payments.

Generating stock reports.
Online Syncing
What sets EasyBooks apart is that the app features plenty of useful online syncing options that make digital bookkeeping a breeze.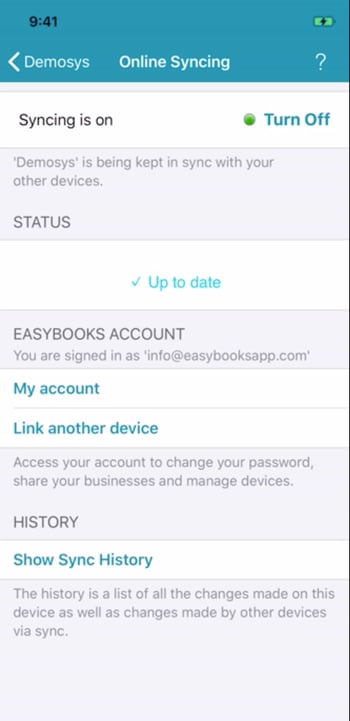 Features include:
Continuous data backups, so you can relax without the worry of information going missing.

Using single and simple sign-in to retrieve data quickly.

Deciding how much sharing access you want to give to a partner, bookkeeper or your accountant.

Easy sharing, managing and syncing data for multiple businesses.

All of your data is sent to your other devices to keep that all up-to-date.
Xero
Xero is another bookkeeping app that's easy to use. Even though it's more in-depth than the previous option, it still has enough features in there to manage your numbers effortlessly.
Invoicing
Xero offers customisable templates, automatic reminders and online payment options to make invoicing easy. Xero's invoicing features include:
Setting up repeat invoices.

Sending invoices in bulk.

Replicating previous invoices.
Bookkeeping
For business bookkeeping, Xero offers a business dashboard for insight on your numbers so you can make informed business decisions. Some other business bookkeeping-related features include:
Streamlining the sales process with professional online quotes.

Setting goals and tracking performance through the business dashboard to get the full up-to-date picture.

Recording and updating your assets.
Finance Reporting
Like many other apps, Xero also has features which make it easy to report on your finances to help run your business. These include:
Tracking gains and losses across multiple currencies.

Simple small business payroll software.

Ability to record, claim and manage expenses and receipts.

Bank connections and reconciliations.
Zoho Books
Zoho Books is an online accounting software that manages your finances and gets you VAT ready. While it's easy to use, there can be some confusion with so many integrations available.
Invoicing
Zoho Invoice simplifies invoicing and billing for freelancers and small business owners with its features so you spend less time on sending bills. Invoice features include:
When invoices have been viewed.

Viewing invoice history and keep track of changes.

Getting real-time invoice reports.

Creating multilingual and multi-currency invoices.
Bookkeeping
Like the others, Zoho Books offers bookkeeping features to help you make better business decisions. The bookkeeping features include:
Payment reminders.

Tracking payments made and received.

Tracking unbilled hours and expenses.
Financial Reporting
Zoho Books has over 50 business reports so that you can get a better insight into your business. Zoho's financial reporting features include:
Scheduling reports and emailing them to yourself.

Getting a business overview with your custom dashboard.

Running detailed reports on your business' health.
All three apps we've touched on have unique tools and features that'll make bookkeeping plain sailing moving forward. What makes EasyBooks so unique is the flexibility in prices with our Bronze, Silver and Gold packages being much cheaper than the competition.
Plus, other alternatives are usually packed with hidden extras. With cost, honesty and flexibility important when it comes to bookkeeping software, the price for the EasyBooks app includes everything - there are no extras.
Best of all, we allow customers to keep books on multiple businesses with one subscription, something you can't get with alternative solutions. To make sure you're ready for MTD and to make the best business decisions possible, download EasyBooks today.
Make Bookkeeping Effortless With EasyBooks
Struggling with getting to grips with MTD? This new initiative from the government might seem like a steep learning curve when it comes to using technology, but it still makes your life easier as well. So don't worry.
To avoid all the confusion surrounding MTD, download our free summary sheet by clicking the link below to make sure you're in the know and 100 percent ready for the deadline.