With the EasyBooks app, you can take the confusion out of your business' finances and make digital bookkeeping easier than ever. It's also the most cost-effective app out there with plenty of useful features in plain English so you're never confused.
Here's what makes EasyBooks so reliable in comparison to Xero and FreeAgent.
Invoicing
Xero
Xero offers customisable templates, automatic reminders and online payment options to make invoicing easy. A relatively easy to use app, Xero's invoicing features include:
Setting up repeat invoices.

Send invoices in bulk.

Replicate previous invoices.
FreeAgent
FreeAgent offers a thorough gallery of professional invoice templates to match your brand by adding a company logo or designing your own. FreeAgent's invoicing features include:
Brand your own invoices.

Customise automated late payment reminder and thank you emails.

Set up automatically recurring invoices.
EasyBooks
The EasyBooks bookkeeping app takes all of the complex hassle out of customer invoicing thanks to its many easy-to-use features. It's pretty straightforward, just like using the app and our app is also more affordable. Win-win. Our customer invoicing features include:
Send estimates from the same app so you win customers faster.

Send invoices in PDF format directly to your customers.

Easily replicate previous invoices to set up repeat customer invoices.

Create quotations quickly and instantly turn them into new sales invoices.

Track real-time payments.

Email your customers, print or pass invoices to a third-party app.

Statements show all sales, credits and payments.

Customise invoice templates with letterheads, logos, payment terms and all of the fixed content labels.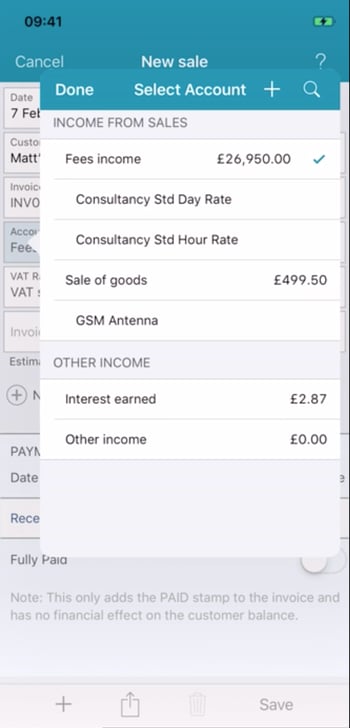 Bookkeeping
Xero
For business bookkeeping, Xero offers a business dashboard for insight on your numbers so you can make informed business decisions. Some other business bookkeeping-related features include:
Setting goals and tracking performance through the business dashboard to get the full up-to-date picture.

Record and update your assets.

Streamline the sales process with professional online quotes.
FreeAgent
FreeAgent also offers a dashboard view of how your business is doing at a glance. Bookkeeping features include:
Live balance charts for all accounts.

Flexible cash flow view.

View expenses, bills, invoices and projects.
EasyBooks
The EasyBooks bookkeeping app has plenty of features to help you run every part of your business without any worries or hassle. With EasyBooks, everything is always simple and easy to use and understand. You won't be bogged down with complex phrases or terms that'll confuse you.
Some more detailed features to help you do business bookkeeping easily include:
Set transactions to repeat automatically which saves you a lot of time.

Add multiple businesses into EasyBooks. The best part? You can manage multiple businesses from one system.

Link to different account types which are all synced from one app.

Backup, restore and set a four-digit passcode to protect all of your data.

EasyBooks handles over 150 currencies with exchange rates updated hourly.

Designed to help you avoid mistakes and give early warnings.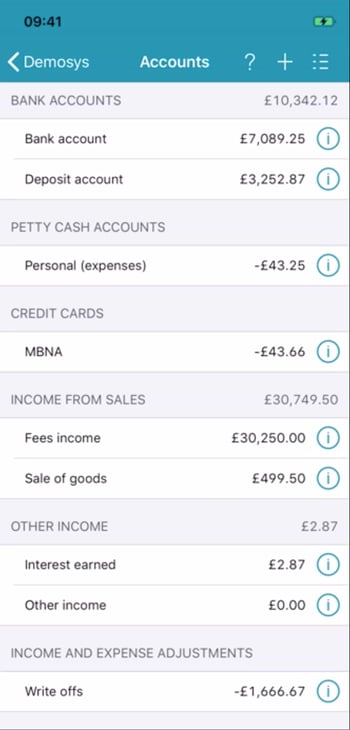 Finance Reporting
Xero
Like many other apps, Xero also has features which make it easy to report on your finances to help run your business. These include:
Simple small business payroll software.

Bank connections and reconciliations.

Ability to record, claim and manage expenses and receipts.

Tracking gains and losses across multiple currencies.

FreeAgent
FreeAgent also offers a comprehensive set of reports to make it easy when it comes to reporting on your finances, from profit and loss to balance sheets. FreeAgent's finance reporting features include:
Journal entry support.

Automatically categorised transactions.

Automatically import bank transactions.

EasyBooks
The EasyBooks bookkeeping app keeps digital bookkeeping as simple as possible with multiple finance reporting options to make your life much easier. Here are some more finance reporting features available in EasyBooks:
Keep tabs on your finances by running reports like Profit & Loss and Balance Sheet.

Create simple reports to eliminate any confusion.

Monitor sales and inventory from the EasyBooks app.

Use customer reports to track and monitor your best customers.

Comply with Making Tax Digital and easily file your tax returns.

Create financial reports and monthly breakdowns.

Have your reports emailed or printed in several formats.

Track customer activity, ranging from the number of sales right through to overdue payments.

Generate stock reports.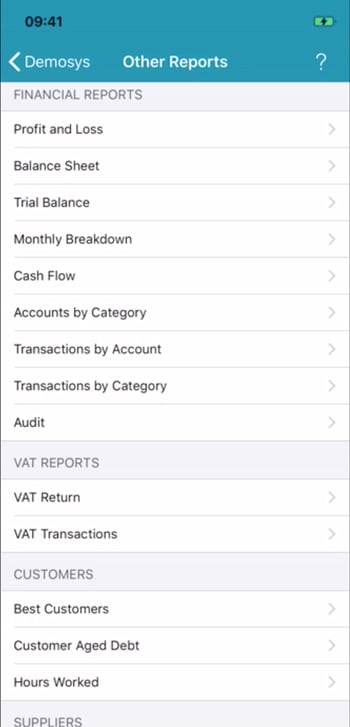 Online Syncing
Xero
One of Xero's biggest downfalls is that the app doesn't feature a built-in capacity to export or backup data. The risk here is that if you lose data, it's gone forever. Features include:
Adding and authenticating users.

Offering single sign-on.
FreeAgent
Unlike Xero, FreeAgent offers data security and backup while also allowing you to export financial figures. Some of FreeAgent's online features include:
Take images of receipts and upload them to FreeAgent.

Seamlessly switch between mobile, tablet and desktop as everything stays updated and in sync.

Single sign-on through a third-party integration.
EasyBooks
With the EasyBooks bookkeeping app, digital bookkeeping is simpler than ever with the online syncing features. EasyBooks' online sync features include:
Continuous data backups, so you can relax without the worry of information going missing.

Use single and simple sign-in to retrieve data quickly.

Decide how much sharing access you want to give to a partner, bookkeeper or your accountant.

Easily share, manage and sync data for multiple businesses.

All of your data is sent to your other devices to keep that all up-to-date.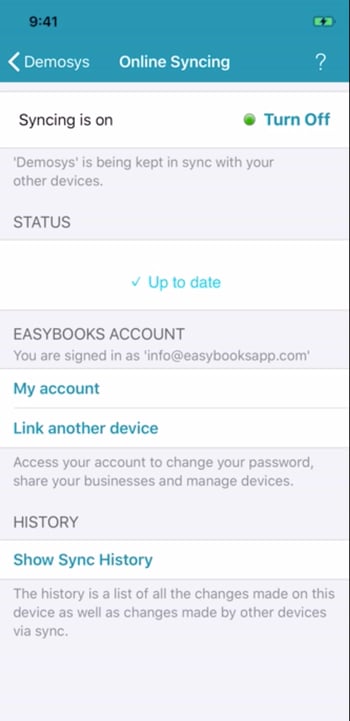 All three apps include plenty of features to make your life much easier when it comes to doing your books. The unique reporting tools are great to stay on top of things but some can be more complex than others - especially if they have features you don't even need.
EasyBooks is the all-in-one solution you'll need to comply with MTD and make it a hassle-free process moving forward. What makes EasyBooks so unique is the flexibility in prices with our Bronze, Silver and Gold packages being much cheaper than the competition.
Plus, other alternatives are usually packed with hidden extras. With cost, honesty and flexibility important when it comes to bookkeeping software, the price for the EasyBooks app includes everything - there are no extras.
Best of all, we allow customers to keep books on multiple businesses with one subscription, something you can't get with alternative solutions.
Use EasyBooks Ahead of the MTD Deadline and Beyond
Now that you've seen just how simple yet in-depth the EasyBooks app is, it's the perfect time to use the software to make your life easier when it comes to doing your books. To avoid the confusion and to make sure you're 100 percent ready for the deadline and beyond, we've put together a free summary sheet of everything MTD-related.
Click the link below to grab your free copy.