Running your business' finances manually isn't efficient. Lose a receipt or invoice and you'll be holding your business back. It's time to go digital. There's a wide range of apps for you to choose from that'll make your life easier. We'll run through three of the best to help you to decide.
EasyBooks vs Xero vs FreshBooks: Tiers
No one wants to have to pay for a system they don't really need. If you're a small business then you don't need a bookkeeping app that's capable of managing the finances of hundreds of clients.
Xero has three tiers, allowing users to choose between Starter, Standard and Premium. FreshBooks also has three, depending on the number of clients your business regularly deals with. It's unlikely you'll need the Premium package, which allows for 500 clients but costs $50 per month.
EasyBooks offers three tiers of pricing, reaching the £15 per month gold tier. Although all three packages support filing VAT returns for Making Tax Digital (MTD).
EasyBooks vs Xero vs FreshBooks: Features
This is the most important comparison for you to consider. What can the apps actually do and how easy are they to use? You don't need an overwhelming system that's going to make things worse. We'll try and make this part as straightforward as possible.
FreshBooks was built as an invoicing tool, which has been added to over the years. It's primarily aimed at small businesses that provide services to their clients, like plumbers and hairdressers.
It's great for creating custom invoices and receiving payments online. It offers fewer features than Xero, but that might not matter if you only need basic functionality. Xero can do more than FreshBooks but both offer the key features of payments, expenses and invoicing.
EasyBooks offers the same three key features, providing all of the financial reporting and business bookkeeping tools you'll need. The online sync features make on-the-go work easy and stress-free too.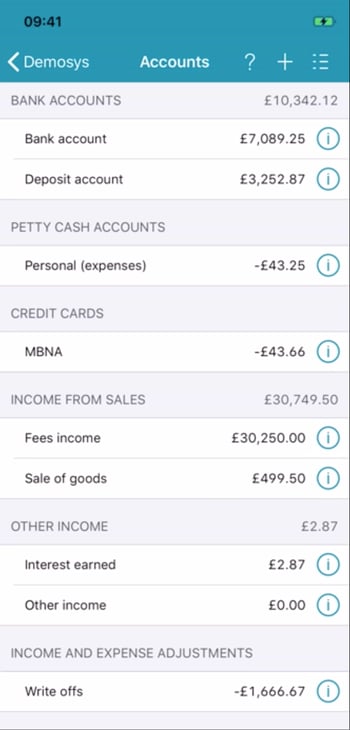 This screenshot shows just how simple and straightforward bookkeeping is with the EasyBooks app. It clearly shows the health of each account and how much money you have available, which is important as you approach important tax deadlines.
You can see a breakdown of where your income is coming from and even how much petty cash is available in case you need to buy smaller things. The VAT reports are kept separate from the main ones, ensuring that nothing ever gets mixed up as you work to file the necessary tax returns.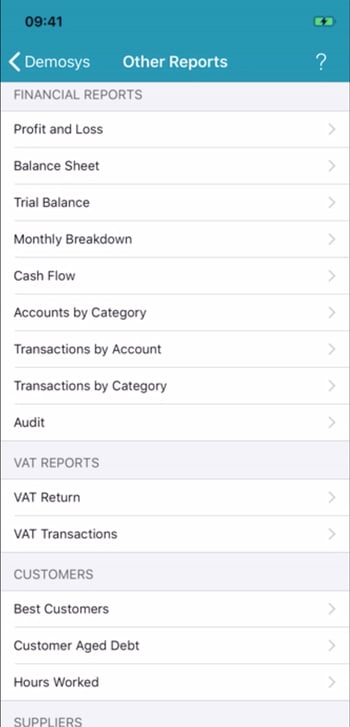 This image taken from the app shows the wide range of reporting tools you can access. Whatever you need to know, the app is able to provide clear and concise reports to help you to make better business decisions.
You can track your best customers and see the purchases they've made or see a monthly breakdown to reveal how your business has progressed over the year. The Profit and Loss and Balance Sheet are likely to be two of the reports you use most, giving you all the insight you need into your business' health.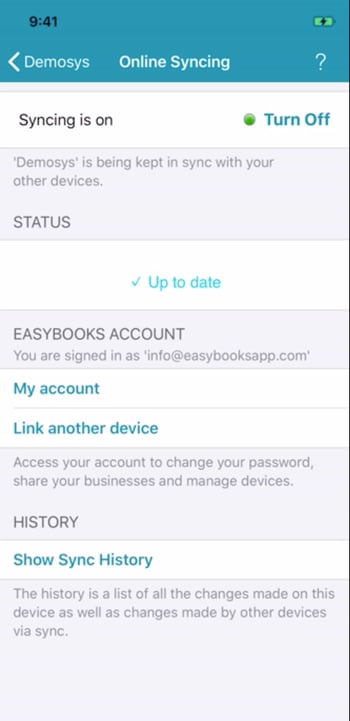 The online syncing feature of the EasyBooks app ensures all of your devices are always showing the latest information. The last thing you want is someone making a decision based on outdated or inaccurate figures.
EasyBooks vs Xero vs FreshBooks: Who Should Use It?
All three of the solutions are suitable for small businesses. EasyBooks is aimed at small business users but it's also great for anyone who's self-employed. When you're freelancing, it's easy to forget that you need to be your own accounts department too. EasyBooks takes all of the hassle out of that process, even if you're by yourself.
Xero can be used by small businesses but it's aimed at a much larger pool of businesses than just that. Retailers, construction firms and franchises are all targeted by Xero. This can make some of the app's functionality redundant for smaller businesses that don't have the same issues to worry about.
Like EasyBooks, FreshBooks is also aimed at small business owners. It's targeted towards consultancies and agencies that are looking to streamline their expense organisation and time tracking.
All three apps are ideal for small business owners, offering the features you need to manage your business' finances successfully.
What makes EasyBooks so unique is the flexibility in prices with our Bronze, Silver and Gold packages being much cheaper than the competition.
Plus, other alternatives are usually packed with hidden extras. With cost, honesty and flexibility important when it comes to bookkeeping software, the price for the EasyBooks app includes everything - there are no extras.
Best of all, we allow customers to keep books on multiple businesses with one subscription, something you can't get with alternative solutions. To make sure you're ready for MTD and to make the best business decisions possible, download EasyBooks today.
Make Sure Your Business is Ready for Making Tax Digital
Whichever app you choose, you're making the switch to online because of the approaching Making Tax Digital deadline. It's important you start filing your tax returns digitally, otherwise, your business could face a penalty. If you're not sure what Making Tax Digital means for you, then download our free guide today.
It's packed with useful information, including why it's being introduced, what the consequences are for not complying and what you need to do to prepare. Download our free guide now using the link below.