There's a wide range of apps and solutions that you can use for your small business' bookkeeping. But how do you know which is the right one for you? We'll run through two of the most popular choices, Xero and Sage, to see how they compare to EasyBooks. Hopefully, by the end of this blog, you'll have a better idea of which you should be using.
Comparing EasyBooks, Xero and Sage
Invoicing
You want your customers to be able to pay you as quickly and easily as possible. The invoicing features should be easy to use, allowing you to create invoices with minimum fuss.
EasyBooks
With EasyBooks, you're able to create a quote and instantly turn it into a new sales invoice. It takes the hassle out of invoicing and is a lot more efficient than doing everything by hand.
Some of the invoicing features you'll be able to take advantage of with EasyBooks are:
Track payments in real-time.

View statements that show all of your business' sales, credits and payments.

Use the app's invoice templates with your own letterheads, logos and payment terms to create professional invoices that look the part.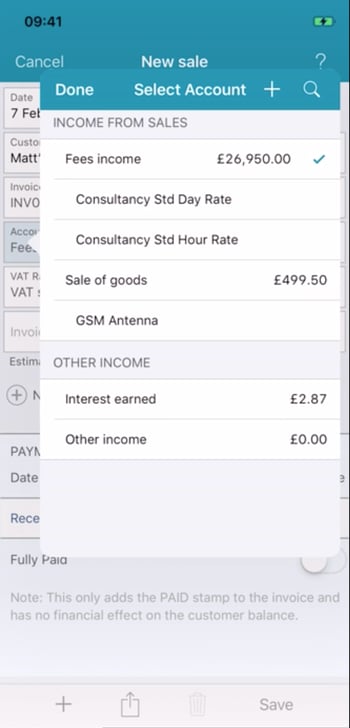 Xero
Xero makes sure you're getting paid faster with its online invoicing software. It's simple, effective and your customers will like the personalised and professional invoices you're sending.
Xero's invoicing features include:
Automated invoice reminders that take the work out of chasing payments from frustrating clients.

Use templates and previous invoices to speed up the process of creating new ones.

Bulk send invoices so that clients can pay the debts they owe all in one go.
Sage
Like Xero and EasyBooks, with Sage, you can quickly create invoices and make sure you're getting paid as fast as possible. Present a professional invoice by choosing from their range of templates.
Sage users can take advantage of:
Invoices in different currencies.

Quotes and estimates.

Printed delivery notes.
Sage doesn't offer many of the features that EasyBooks does, while Xero's cheapest plan is still more expensive than any of the tiers offered by EasyBooks. Our app has everything you need for an affordable price.
Bookkeeping
Bookkeeping is an essential part of running a business, no matter how big or small it is. It can be a little confusing and time-consuming which is why it's sometimes neglected by business owners. It doesn't have to be complicated. Apps like EasyBooks do all the hard work for you.
EasyBooks
You'll never have to worry about the hassle of bookkeeping again once you're set up with EasyBooks. The app will streamline your business and let you get back to doing the parts of your business that you actually love to do.
EasyBooks can help with:
VAT schemes.

Letting you check your bank statements on the go.

Proactive warnings about mistakes so you can deal with them quickly.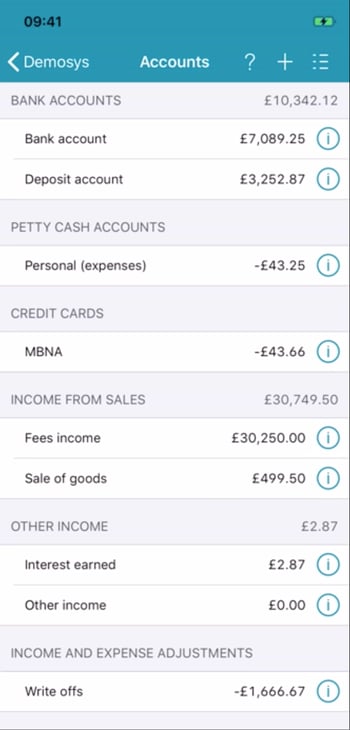 Xero
With Xero, you can keep track of your numbers and make better business decisions. There's no waiting until the end of the month to see how your business is performing financially because you can track your budgets and expenditure in real-time.
It's completely customisable so you can track exactly what you want to see.

You can export figures easily into spreadsheets.

Compare your bookkeeping performance to other periods of time.
Sage
Sage's bookkeeping features are easy to use and understand, even if you have no experience with bookkeeping. Plus, the handy automatic backups make sure you never lose any important data.
Great for paying any bills online.

Has all the basic accounting tools you could need.

Easily monitor your cash flow so you're never caught out.
Sage is a little more complicated than the others. This makes it perfect for owners of slightly larger businesses. If you're looking for something a little simpler and easy to grasp, then EasyBooks is the perfect tool for you.
Finance Reporting
It's crucial that you know exactly how your business is performing at any one time. Profit & Loss and Balance Sheets are essential financial reports that ensure you make the best possible financial decisions.
EasyBooks
Financial reporting is simple and straightforward with EasyBooks. Keep tabs on accounts, products and customer reports - all from the same easy-to-use app. There's no unnecessary jargon or confusing figures, allowing you to get on with the work that matters to you.
Easily comply with Making Tax Digital (MTD).

Track customer sales and payments to make sure nothing slips through the cracks.

Use monthly breakdowns to spot trends and patterns.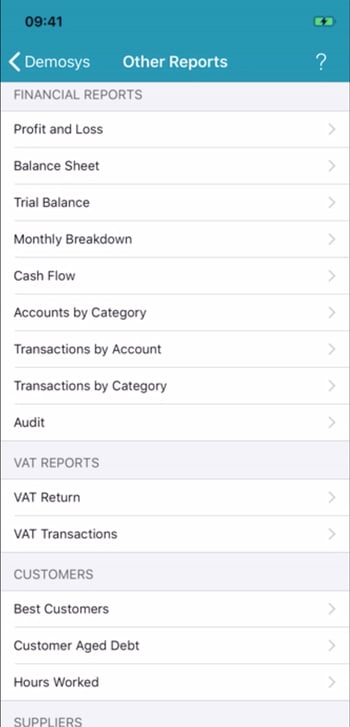 Xero
Xero's easy-to-use reporting tools let you keep track of how your business is performing at all times. Get reports customised to suit your business exactly when you need them.
Calculate the differences between projected and actual figures.

Decide which metrics are important to your business and track them easily.

Lock dates to close off your accounts at the end of the financial year.
Sage
Save time and take control with Sage's reporting feature. It's easy to be overwhelmed by all the numbers you need to keep an eye on but Sage takes all the hassle out of it.
Analyse data that's important to you and export it as a spreadsheet.

Create custom reports that are perfectly suited to your business' needs.

Keep on top of your cash flow and profits, allowing you to make the right business choices.
All three apps offer in-depth reporting tools that ensure you're making the right decision for your small business. EasyBooks has everything you need, especially with Making Tax Digital on the way.
What makes EasyBooks so unique is the flexibility in prices with our Bronze, Silver and Gold packages being much cheaper than the competition.
Plus, other alternatives are usually packed with hidden extras. With cost, honesty and flexibility important when it comes to bookkeeping software, the price for the EasyBooks app includes everything - there are no extras.
Best of all, we allow customers to keep books on multiple businesses with one subscription, something you can't get with alternative solutions. To make sure you're ready for MTD and to make the best business decisions possible, download EasyBooks today.
What is Making Tax Digital?
Not sure what Making Tax Digital is? It's time you found out, especially with the deadline approaching.
If you're not sure what it is and why it's important for your small business, then make sure to download our summary sheet. It's filled with everything you need to know and useful tips and advice.